Digital experience stack.
Integrate content directly into your tech stack for faster deployments and unrestricted design possibilities.
Kontent helps you:
Add content to your microservices
Deploy quickly and safely
Extend to external systems
Integrate with third-party services
Our customers love Kontent
Add content to your microservices.
Clean, structured content is delivered as a JSON object via API so it can be seamlessly added into any digital experience. This gives developers complete control over the presentation layer, with the ability to optimize for any device or channel. With pre-build SDKs for many common languages, you'll be off and running in no time.
Deploy quickly and safely.
To keep up with business demands, you need to develop, test, and deploy updates quickly and efficiently. Kontent keeps your production sites safe by providing multiple environments for testing and staging before anything gets launched.
Kentico Kontent gives us, developers, complete freedom to present content across all digital touchpoints. The easy-to-connect API saves time on development, so we can focus on the best way to display information to users. It helps our clients better organize, improve, and minimize the cost of content creation."
Extend to external systems.
Webhooks tie directly into your content production process, triggering events so you can tie into other systems as your content progresses through its workflow.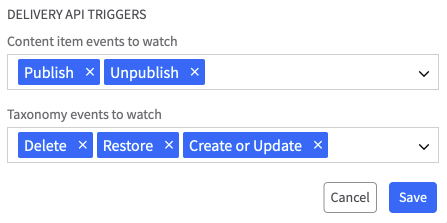 Integrate with third-party services.
Because content is delivered via API, you can connect it with any other services in your tech stack. But, to save you some time, Kontent has pre-built integrations with many of today's leading tools, including Bynder, Hubspot, Magento, Hawksearch, and others.